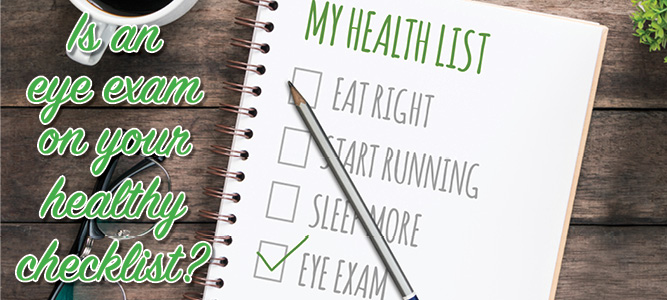 Preventative Eye Health 
Your vision is very important to us! That's why we make it our goal to ensure your eyes are the healthiest they can be. And while routine eye appointments are beneficial, there's a lot you can be doing to keep your vision in tip-top shape, too! Let's get down to the best ways to maintain your eye health! 
Remember, vision screenings aren't the same as comprehensive eye exams. If you or your child has had one, don't substitute it for going to see your eye doctor. People who are not properly trained to perform a comprehensive eye health examination can miss important signs of problems and eye diseases. Examinations are not only about your vision, they are about your health!
Follow these tips for good eye health:
Eat Right
A diet rich in fruits and vegetables, particularly dark leafy greens such as spinach, kale, and collard greens is important for keeping your eyes healthy. Make sure you're filling up with foods full of omega-3s, too, like salmon and tuna!
Talk it Out
Have a chat with your doctor about how your overall health affects your vision. It's crucial to maintain a healthy weight, especially since a lot of diseases like diabetes can lead to vision loss.
Get Fit
Staying healthy is about more than just eating healthy! Maintaining a proper weight, keeping blood pressure in check, and exercising regularly are all great ways to care for your eyes.
Keep a Routine
Regardless of your age or physical health, it's important to have regular, comprehensive eye exams to catch potential problems or identify symptoms before they worsen.
Are you overdue for an eye exam? Schedule an appointment with us today!